Everybody knows the saying about that first step... this blog is to document the travel.
I practice kyokushin again after 20 years; I was once 3rd kyu & opted to start at white belt.
The first milestone is to re-earn my rank, then, of course to attain shodan. Let's see where this will take us in the end.
Expect much frustration hand in hand with a study in humility as the inner battles have but a clear outcome...
I entered the dojo in June of 2009 on crutches; we are now in November and I have mostly regained use of my legs: time to get cracking!
2010 01 - Workouts Planned vs. Accomplished
Nothing was formally planned and that was a mistake --- I pay it now by not being able to measure & compare.
Let's see what was in my mind and what happened:
- Enjoy a ski vacation:
- Check!
- Continue fixing the legs:
F17s started it, then some sprints in Paris; I was ready for a month on skis, it worked; I feel my legs are stronger than at any time in the last few years - knee problems seem fixed too - Achilles is (crossing fingers) a bad memory.
- Fix the shoulder:
Took 20 days medication; left the shoulder alone during most of that time, save a prudent push ups test; was careful skiing; started rehab.
More fingers crossed, it seems to be working.
Note to self: Shoulder problems started in November - that is 3 months!!! Holy cr@p, without keeping records, I would never have thought.
- Grip mini workouts:
Nope, zip, nada... Was lazy & slacked --- it felt good at the time, but I regret it now.
This seemingly small stuff, include neck, calves, makiwara, etc... falls by the wayside if not planned.
- Abs & core:
Had no plans formulated and did mostly nothing.
- Stretching & flexibility:
Idem.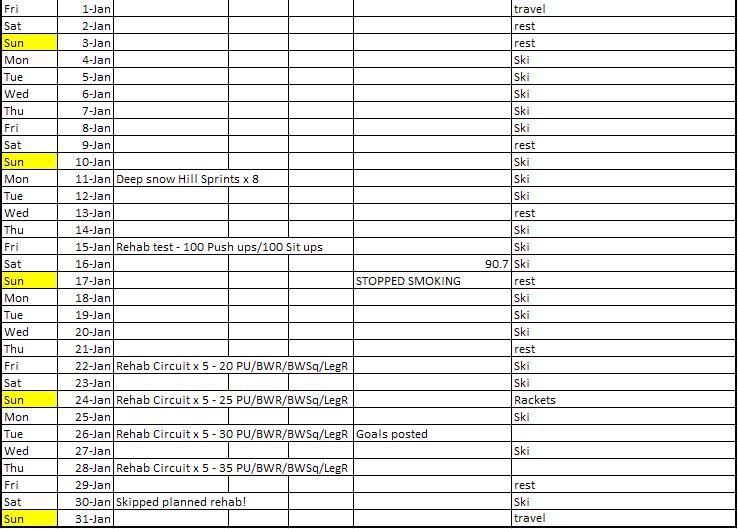 February will be a transition month:
- Rehab for shoulders
- keep on with leg work.
- implement a plan.
"discipline is the bridge between goals and accomplishments."
- Include the "small stuff"
- Taper from rehab regimen to a 50 days 4+1 cycle workout/rest, per Ross Enamait canvas.
- Elaborate on goals and start moving towards them.
- Include kata & kihon work as dojo is closed for Chinese New Year.
- Work on patience and diligence... better to fully rehab the shoulders than go on the heavy bag too early!
Osu!
Comments
3
Comments
Posted 02-09-2010 at 12:44 AM by

MilkManX
Posted 02-09-2010 at 01:19 AM by

sandman
Posted 03-09-2010 at 12:20 PM by

supergroup7
Trackbacks
Recent Blog Entries by FredInChina